Bowie, MD Roofing, Siding, Window Contractor
Integrity Home Pro is your local home and property contracting source working out of Bowie. Have a roofing, siding, remodeling problem?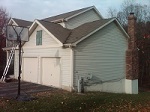 Our decades of experience get your home or building's issues fixed quickly and most of all with integrity. We're a contractor with integrity, which is typically hard to find.
Whether your home is suffering from roofing damage (for example from hail, tornadoes, hurricanes, etc.), Roof leaks, Old roof that needs replacing, new siding, Window replacement, Kitchen or bathroom remodeling Integrity Home Pro can help you. We'll give you the information to decide whether you want a repair or if it may be time to replace your roofing.
Trust Our 5 Layer of Protection Guarantee.
This means to you is that when you work with Integrity Home Pro you get to take advantage of our 5 fantastic value-added features so you're not left out in the cold should a roofing manufacturer deny fault with their product:
1. Lifetime Manufacturer Warranties,
2. 20-year Craftsmanship Guarantee,
3. 10-Year No Blame Guarantee,
4. Ironclad Low Investment Guarantee and
5. 100% Money Back Guarantee.
From Us to You - Free Estimates on These Services:
Roof Repairs.
Roof Replacement
Storm Roof Damage
Window Replacement
Door Installation & Replacements
Siding Installation
Bathroom Remodeling
Kitchen Remodeling
Sunroom building
Just contact Integrity Home Pro today to get started with your roofing, remodeling or siding price estimate and we'll take care of you.